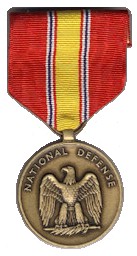 On a bronze medal, an eagle displayed with inverted wings standing on a sword and palm branch, all beneath the inscription "NATIONAL DEFENSE". On the reverse is a shield taken from the Coat of Arms of the United States with an open wreath below it, the right side of oak leaves and the left side of laurel leaves.

The National Defense Service Medal was awarded for honorable active service for any period between 27 June 1950 and 27 July 1954, between 1 January 1961 and 14 August 1974, and between 2 August 1990 and 30 November 1995. For the purpose of the award, the following persons will not be considered as performing active service:

(1) Guard and Reserve forces personnel on short tours of duty to fulfill training obligations under an inactive duty training program.

(2) Any person on active duty for the sole purpose of undergoing a physical examination.

(3) Any person on temporary active duty to serve on boards, courts, commissions and like organizations or on active duty for purposes other than extended active duty.


Quoted from the Institute of Heraldry.